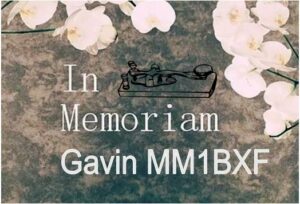 Monday the 6th February 2023, at Clydebank Crematorium, saw a large gathering of family, friends and amateurs (inc a good turnout of WoSARS Members) paying farewell to WoSARS (and CAMHAMS ) Member – Gavin MM1BXF.
Although the wx was a bit grey outside, the proceedings within the Chapel brighten up the winter day with recollections of Gavin's short but full life.
Celebration Booklet
Led by celebrant Pamela Clocherty, with reflections from Bex – Gavin's XYL, a 'timeline' covering Gavin's early years at Dumbarton & Aberdeenshire, through his work years in the telcoms cellular industry, the Czech Republic (OK), returning to Cambridgeshire, then finally along with Bex's, back to Scotland. His early introduction to radio and the mischievous side of it along with his 'well-kent' buddy, accomplice and Best Man – Allan MM1BJP. His fascination with the hobby and the 'amassing' of kit which never seemed to diminish, to Bex's exasperation.
The celebration also included a eclectic selection of music which  again reflected Gavin's (and to a certain extent Bex's) varied tastes.
Farewell Gavin, there was so much to look forward to, but it wasn't to be.

Checkout more photos of Gavin on the WoSARS Gallery – HERE.
And a short video of Gavin operating from WoSARS Shack, 144 SSB, September 2021 – HERE Courtesy of Ray GM4CXM.