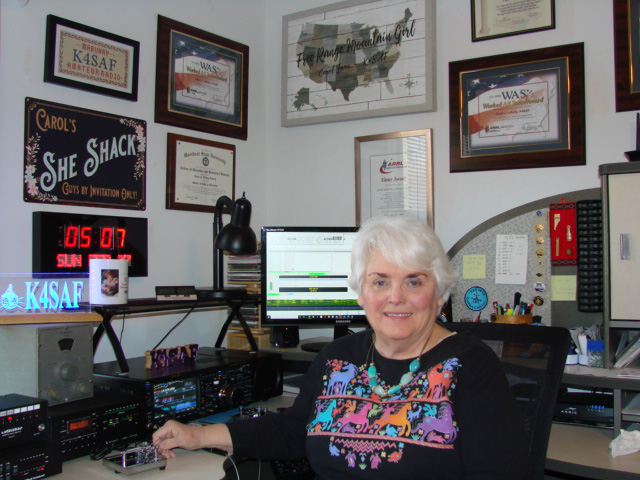 A Ham for 63 years – by Carol Fraley Laferty – K4SAF
My ham shack has been upgraded to my dream She-Shack, and I am having more fun in ham radio than I have had since a teenager.  I have been operating the digital modes for two years almost, and during the Corona Virus Pandemic I set some amateur radio goals.  I have accomplished more during this time than I ever dreamed possible.  I have finished DXCC, and received Worked All States on 160, 80, 40, 30, 20, 17, and 15, Mixed, Digital and CW.  I need only AK and WY on 10 meters. Thanks to all in the ham community all around the world for helping me achieve this.  I was never interested in completing these awards until now.
The hardest award for me to get has been the YLRL WAS YL (Worked All States).  I need only MT and RI now to complete it.  Many more of the licensed YLs need to get on the air more often.
I was 15 when I got my license in 1957 and will be celebrating my 64th year as a ham on 9/28/2021.  My brother, Fred Fraley, W4CHK > AA4FF > W4DF, who is now a Silent Key, was instrumental in getting me on the air. He taught me the code and shared his shack willingly with his younger sister.  I have kept the same call all my years on the air. My late father also got his license at the same time I did and was K4SAB.
I met my husband Don Laferty, K4GFY via radio in 1957. He is also now a Silent Key.  We talked for three years on cw and phone before we actually met in person.  We had been married for 53 years when he passed in 2015. Our son Don Laferty, Jr., who lives in Wisconsin, now has his Dad's call, K4GFY.
I am a retired high school Business and Computer teacher. I also taught part-time in the CIS Dept at Morehead State University.  I am active in the Young Ladies Radio League (YLRL) and was the   U.S./Canada Receiving Treasurer for 11 years.  I enjoy seeing my YLRL and ham friends at Dayton Hamvention and at our national YLRL convention, which is held every 3 years.
I am also a member of QCWA, SKCC, and FISTS, and our local radio club, Morehead Amateur Radio Society, in Morehead, KY.  I received my Extra class in 2000, just before the 20 wpm code requirement was dropped. Hope to see you on the bands or possibly on Facebook.
QCWA  Quarter Century Wireless Association
SKCC Straight Key Century Club
FISTS  The International Morse Preservation Society