Glasgow has many 'offspring' around the World. None more so than many in the USA. And indeed in 1989 Glasgow 'twinned' with Glasgow, Kentucky.
Getting into the 'spirit' of the occasion WoSARS members had been in communication with Kentucky amateurs and organised an event where a representative of GLASGOW CITY DISTRICT COUNCIL – Bailie James McLean (Deputy Chairman), exchanged greetings messages with the Mayor of GLASGOW, KENTUCKY . The greetings were timed to coincide with Glasgow, Kentucky's Highland Games with the Kentucky Mayor broadcasting via the Games' PA system.
To achieve this, the services of Raynet were called upon to assist Club members, along with the permission of the Department of Trade and Industry – Communications Section (the amateur licencing authority at the time).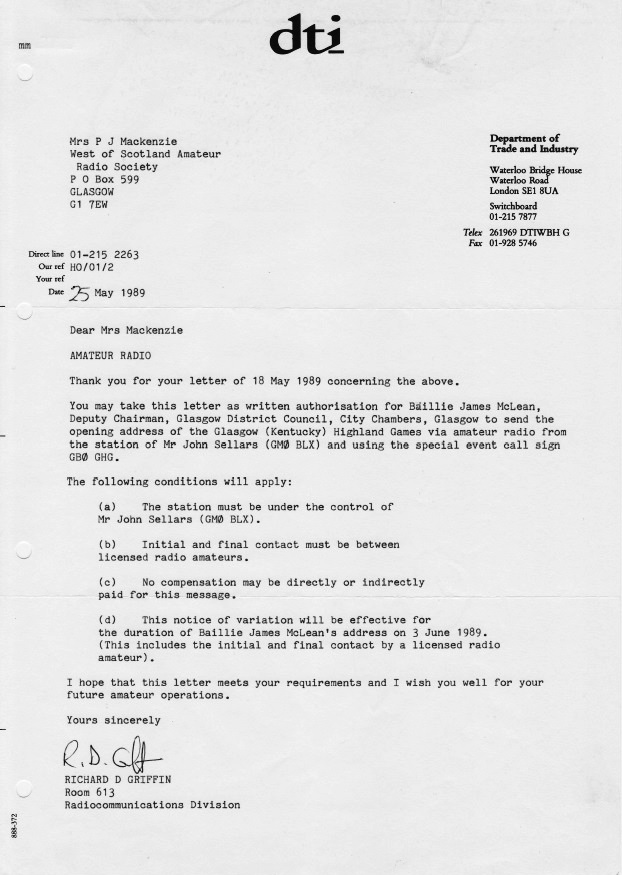 A 2 Metre FM link was set-up to crossband to 70 cms through a crossband unit (provided by JACK – GM4COX ) located at a high spot in Queens Park situated north of the City Centre. From there the 70 cms signal was sent to one of WoSARS members (JOHN – GM0BLX)  who had a high power HF station. The 70 cms signal was patched into John's rig and 21 MHz (15 metres) was used to span the Atlantic. In the games arena an HF station had been set-up in preparation and John had earlier established two-way comms.
Using a 2 Metre handportable a number of our members joined Baillie McLean at the City Chambers where the two-way greetings took place using the special callsign GB0GHG (Glasgow Highland Games) – impressing parties at both sides of the Atlantic.