Hello Jack
I saw your post about the quorum numbers for the AGM.  I have to give my apologies. Eileen and I have been in the USA for a month so far and are not back until 20th May.
Unfortunately, not getting much chance to play radio but I did get to use the HF Discone at the Titan Missile Museum.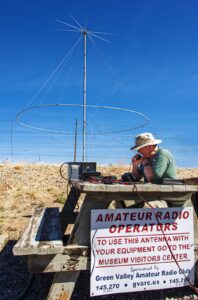 Here's a picture Eileen took of me at the Titan Missile Museum HF discone.  I was only using 10w. Conditions weren't great, but I did get about 8 QSOs all in continental USA with the best DX being Florida.
73 Julian
GM7MTK