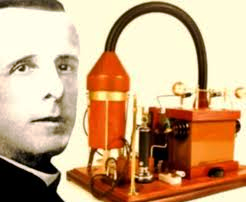 Father Roberto Landell de Moura (January 21, 1861 – June 30, 1928), commonly known as Roberto Landell, was a Brazilian Roman Catholic priest and inventor. He is best known for his work developing long-distance audio transmissions, using a variety of technologies, including an improved megaphone device, photophone (using light beams) and radio signals.
It was reported in June 1899 that he had successfully transmitted audio over a distance of 7 kilometers (4.3 miles),  which was followed by a second, public, demonstration on June 3, 1900. A lack of technical details makes it uncertain which sending technology was being used, however, if radio signals were employed, then these would be the earliest reported audio transmissions by radio. Landell received patents in Brazil and the United States during the first decade of the 1900s.
For more information – HERE .