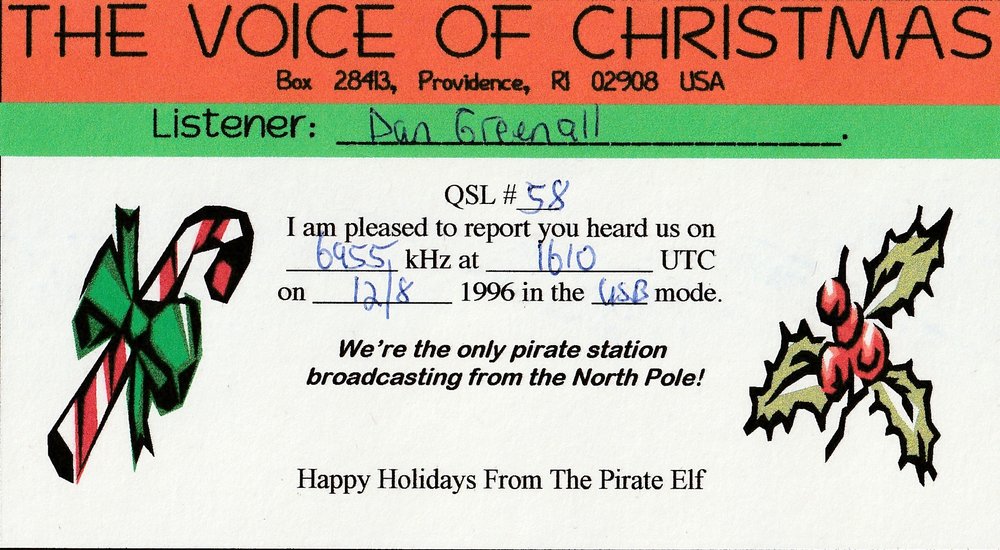 Many thanks to SRAA contributor Dan Greenall who shares the following recording and notes:
Broadcaster: The Voice of Christmas (pirate radio)

Date of recording: 12/8/1996

Starting time: 1610 UTC

Frequency: 6955 kHz

Reception location: Thamesford, Ontario, Canada

Receiver and antenna: Panasonic RF-3100 and longwire antenna

Mode: Single Side Band

Notes: Pirate radio station The Voice of Christmas as heard in Thamesford, Ontario, Canada on December 8, 1996 at around 1610 hours UTC. The frequency was 6955 kHz USB.


Here are a few blended airchecks with Christmas music and frequent station ID's by the Pirate Elf stating they are "the only pirate radio station broadcasting from the North Pole." P.O. Box in Providence, Rhode Island given for reception reports. Concludes with their "interval signal" tune.